GENERAL OBSERVATIONS
The global competitive landscape for textile and clothing productions, so heavily impacted by the implementation of WTO agreements on textiles & clothing in 2005 and the introduction, since then, of a large number of regional trade agreements is now undergoing another relevant weave of transformations.
In a freer, logistically more efficient and increasingly competitive global textile market, cost competitiveness is today still heavily impacted by its labor component but while such pure direct cost factor becomes even more important than in the past for largest, cost driven mass market productions it appears to loose some of its relative shine for others: the divide of value adding activities playing its key role.
No doubt that global supply chain dynamics are becoming increasingly difficult both to predict in their evolutions and to design for their effectiveness.
Exchange rate volatility can quickly alter the global competitiveness arena, particularly for confection, thus diverting huge volumes of production to new shores and often demanding, as a consequence, the rapid redesign of their feeding textile supply chains. At the same time we also notice the sign of a new vitality of the "mid market" whom death was been predicted in the last years when mid to low market productions where rapidly fleeting proximity supplying countries such as in Northern Africa, Turkey and Mexico to the advantage of China and India.
The complex market scenario brought in by the current global economic downturn and the strictly correlated exchange rates and transportation costs volatility, on one side are pushing lowest cost productions to move even further than China and look at Bangladesh, Vietnam and Cambodia as the new low cost production Eldorado's. On the other the imperative need to reduce logistic stocks and free-up cash flows while improving time to market and re-assortments is holding, or even calling back important productions to countries whose pure cost competitiveness may not rank among the best but whose positioning, stability and industrial scope offer a wide range of more than compensatory benefits.
Difficult to say if we are assisting to the early steps of what we could call a progressive global re-leveling of textile and apparel productions somehow limiting the much anticipated Chinese and Indian hegemony.
Once again, as every year since 1958, we are pleased to release the new Werner International 2008 Labor Cost Comparison in the primary textile industry which is the only study comparing the hourly labor cost in 44 countries since the phasing out of the MFA agreement. We believe that this study provides a fair representation of the situation for the vast majority of textile producers in the world. Our comparison covers all primary textile industry sectors, consisting of spinning, weaving and dyeing & finishing and has being build by combining the information confidentially collected from a large and diversified cluster of industrial players in each country.
Cut & sewing operations are traditionally excluded from this comparisons. Labor cost in the clothing industry is in fact much more difficult to compare due to the industry fragmentation and the limited industrial scale of most operations. With the necessary limitations it is however often adopted as the best proxy available also for the confection industry.
As we always did for previous editions, we would like to stress that the hourly labor cost is but one of the many factors impacting on the competitiveness of the textile industry.
Nevertheless it is the single most relevant driver in the continuous process of global relocation of productions which has characterized our industry in the last 20 years.
In an open global system less and less restricted but heavily impacted by external factors such as exchange rates, important production flows will continue to geographically reallocate in search of even temporary competitiveness.
Europe and Japan for their high and still rising costs can only aim at top niche productions although their sustainability, largely dependant on luxury productions, appears questionable also for its extremely high innovation costs. Eastern Europe is rapidly Europeanizing its costs with some interesting distinguishing factors. Several North African countries are doing better than expected containing their labor cost rise and leveraging on their proximity advantage. The same cannot be said for Turkey whose relative costs have considerably grown but whose integrated and versatile supply chain can possibly compensate for better productions. While still wondering if it was altogether wise for the US to practically give-up virtually all its manufacturing, we notice Brazil strengthening its relative competitiveness as well as Mexico, whose still untapped proximity potential appears as one on the wonders of our industry.
China's labor cost spectacular surge, combined to the news of the undergoing fierce internal selection is no doubt the single most relevant happening in our survey for 2008. India's slower than expected growth generated by its overall lack of product versatility and its inflationary price environment surely a second key driver with cost rising, though from a small base, in Vietnam, Indonesia and Pakistan as well.
At Werner we look forward to read these notes again early next year when preparing for the update of our 2009 comparison. We look forward at that moment when, we hope, we will have left behind most of the many doubts and worries which characterize this peculiar January 2008, with the whole world witnessing the most relevant global financial crisis ever and a troubling contraction of textile and apparel consumption staging worldwide.
We are confident that once the necessary painful adjustments will be over, our industry will go back on its path of rapid global growth, creating once again good business opportunities for a large number of wise, committed, open minded and creative players and entrepreneurs in all market segments and all over the world.
Constantine Raptis
President
If you would like to receive a full copy of the new Wage Report, please request your full LCC report by email. We will e-mail you the Wage Report within 24 hours.

If you would like to contribute to the Wage Survey, please submit the LCC survey form. It will help us to have these facts upfront to better serve. All of the fields are not required, but the more information we have the easier it is to route this email to the right department.


COMMENTS
Switzerland is still in first place with the highest hourly labor cost in the textile industry, a position it has held almost continuously since 1987. Amongst the top ten most expensive labor cost countries, the European Union countries take eight positions, with only Spain, UK and Portugal just following. Japan, which went from the first place in 2000 to the sixth place in 2007, has now reached the forth position. Several of the positions have changed due to changes in the exchange rate to the United States Dollar. The USA itself now occupies the 13th place, while in 2000 the USA ranked higher than Italy, France and the UK. The actual strong Euro has clearly strongly altered the classification making now the USA more competitive than virtually any European country.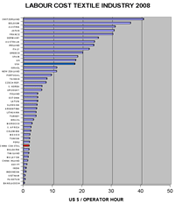 Click to enlarge

Within the European context Greece appears the country with the highest growth followed by Portugal and France. Italy appears to have contained its growth as well as the UK, also made more competitive by the considerable value drop of the Sterling. Germany shows a relevant contraction.
Within Eastern Europe, overall labor cost has been catching up fast, with most countries now between 3 and 5 US$ per hour. Only Bulgaria with 1.85$ still has a substantially lower labor cost, though fast rising. Very relevant the growth of the Czech Republic.
Quite interesting the evolutions in the Mediterranean area with Turkey showing the most relevant increase in both local currency and $ value, and Egypt, Morocco and Tunisia showing a remarkable stable performance.
Relatively positive the overall performance of the Americas with the only exception of Argentina. Brazil, with an hourly cost of about 3.5$ and Mexico of 2.17 $ show stable performances.


Click to enlarge




Click to enlarge
Asia offers very interesting inputs. The most evident ones related to the impressive surge of labor cost, both in domestic currency and $ in the two Chinas internal and coastal which somehow dwarf those still very relevant of India (+35% in local / +23% in $), Indonesia (+56% in local/+28% in$), Pakistan (+72% in local/+33% in$) and Vietnam (+31% in local/+24% in$).


It should also noted that in some countries, there is a substantial difference in hourly labor cost from company to company, from region to region, from spinning to finishing, from large to smaller company, etc.

If you would like to receive a full copy of the new Wage Report, please request your full LCC report by email. We will e-mail you the Wage Report within 24 hours.

If you would like to contribute to the Wage Survey, please submit the LCC survey form. It will help us to have these facts upfront to better serve. All of the fields are not required, but the more information we have the easier it is to route this email to the right department.
---